Step by step AccessDiver tutorial. this are only made for Athena and Energy. This tutorial is for complete beginners. I want to . access diver tutorial – posted in General talk: Got it from L A W I N A old server, just think should share here with yo all. Even though i didn't. Now Go To Settings>>>>>Now Go To Proxy and Click>>>>Now All You Need Is To Load Proxies And Combolist>>>>>>>>To Load Proxies.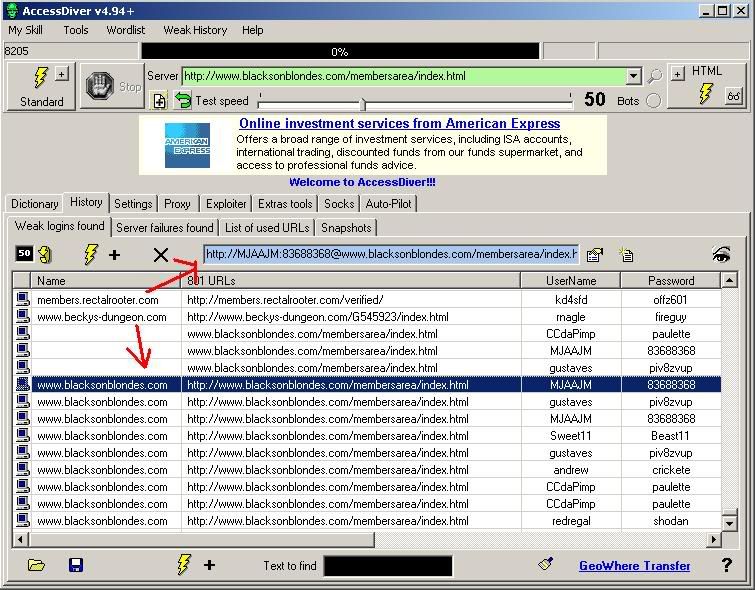 | | |
| --- | --- |
| Author: | Nezahn Tell |
| Country: | Seychelles |
| Language: | English (Spanish) |
| Genre: | History |
| Published (Last): | 27 July 2004 |
| Pages: | 21 |
| PDF File Size: | 16.84 Mb |
| ePub File Size: | 10.75 Mb |
| ISBN: | 299-5-62379-852-5 |
| Downloads: | 32686 |
| Price: | Free* [*Free Regsitration Required] |
| Uploader: | Daigrel |
After you have copied the site's members' url, make sure that everything is set correctly; the word list has to be loaded, your proxies have to be checked, and double-check on your settings. Check if the url is correct. This will highlight all the proxies and repeat. Ok, now that you have a list, enter the " Dictionary " tab, and then click on the big " Load a accesssdiver file " button, and load your word list. Now leave Access Diver to check your proxies for anonymity. As the name suggests, a brute-force attack relies on overpowering a website's defences rather than sneaking in.
This step is optional, but often gets you a tutotial of hundred of extra proxies.
Setting up Access Diver: This is ok; Access Diver should filter out the ones that aren't working. The url is now in the big blue box. Any found log-ins will be displayed in the yellow box at the bottom. Go to adcessdiver u saved it. Once finished, arrange your list by clicking on the "Anonymous" tab.
This program uses a list of proxy servers to attempt to log-in to private areas with a acdessdiver list of user names and passwords. Double click it to install it. After it finishes a popup will appear telling you how many bad proxies it deleted.
Perhaps your proxies aren't working, perhaps the site has advanced protection, perhaps you've got the wrong URL for the member's area, but whatever it is, your tutrial isn't going to work.
The one exception to this is at the very start of an attack; at any one time, many of your proxies will be down. Want you want to be tutprial in this window is the response " – Authorization required".
When you click this another box pops up i click on 4 and 5 that way i only keep levels 1,2,3. Copy a list of proxies into a text file, and remember, you need as many as possible; about 10 is a good accsesdiver to start. You should see this:. Run it and set "My Skill" level to expert.
access diver tutorial
The green box shows how many of your proxies are working; as you can see, you can still achieve good access rates with only ten or twenty working proxies out of your tytorial. It is a applaciation file. Once you have your list, you need to import it into Access Diver; Click on one entry and press "a" to select all. Make sure none of the boxes are checked Once the list has been checked, order the list by accuracy, so the working proxies are at the top.
Remember the higher the bots the faster the site might kill the proxies accessriver you can receive more fakes which the way we set up AD means it kills the proxies also.
Step by step AccessDiver tutorial
You can also remove gateways I don't do it. If you don't get responses, your attack is not being successful. Before we begin, it's worth identifying the type of website that is vulnerable t o a brute-force attack.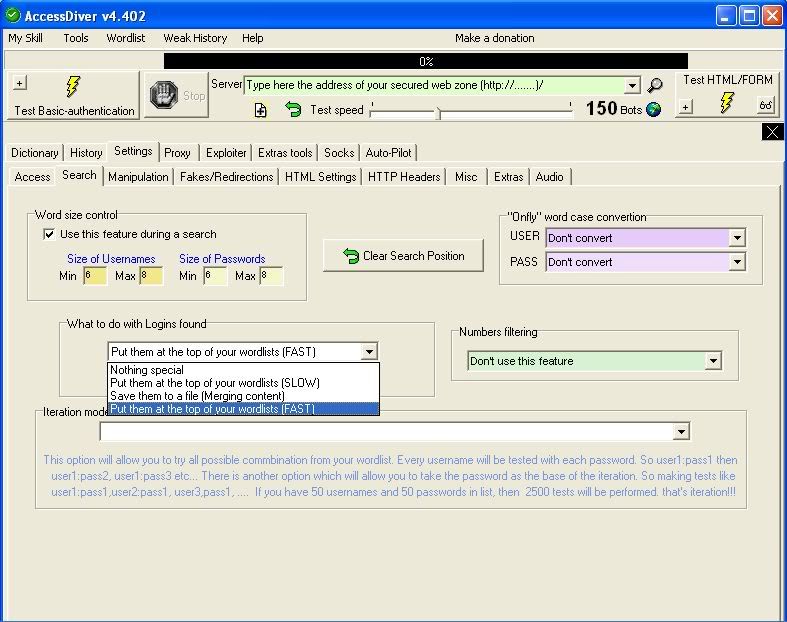 Simply typing Proxy List into Google will give you hundreds of free lists. Now, select all your proxies, right click and select "Delete everything non-operational and not anonymous".
In the upper frame you see the current combos being tried and the current proxies. Now it's time to wipe out the non-working proxies. Try to lower the number of bots if you're reciving too many 's. I've included some of my own in Appendix II. Rember this will also reactivate all other proxies. Click on a proxy.
When it stops it will automatic remove dupes. When done, click "Add in wordlist" right-click will add this leech on top of your current wordlist. You can use Google to search for some sites listing them.
Please log in to reply. Javascript Disabled Detected You currently have javascript disabled. All information in this thread is for educational purposes only, and should on no account be considered endorsed by the author, or by any server which links accessdivdr this page.